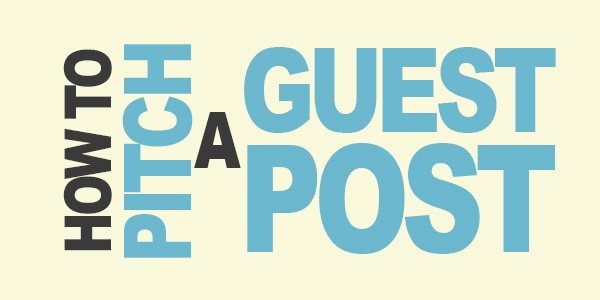 "Guest Posting" as the name defines that it means publishing your articles on someone else's website or blog. It is the best way to build a relationship with other bloggers and social media influencers. It also helps to increase traffic in our blog and engage readers/visitors.
As we know that the major part of the internet is occupied by bloggers and other media influencers. Therefore, posting our content in their blogs or website help us to build backlinks to our own blog and helps to increase our own authority.
Doing the above process increases our blog value and also have chances to view our content on search engines. But, doing it perfectly is quite a difficult task.
There are certain steps/processes to be followed to perfectly pitching of guest posts:
When to approach for guest posting.
Find the hosting Blog.
Submission of guest posts.
To make our content reach to a wide audience we have to find the best hosting blog or website. To make our posts acceptable we need to find the proper kind of posts that to be posted by the host. It will give an idea about the theme of the host blog and will make pitching easy.
Sharing the work of the host blog on twitter or other social platforms mentioning his/her username will help to communicate with them and we will no longer be stranger for them. This may be used as a strategy.
Making our content attractive is another way to attract people who will click on the backlinks.
After doing the survey of the host blog we need to find the right time for posting approach, sometimes host is looking for guest posts or he/she replies to our comments on his/her blog.
Submission of posts is very confusing. The solution to this problem is to keep track of the host blogger. If they use longer posts we should follow the same or if they use a lot of images we can use that trick too.
Being well prepared is the best practice to be followed. We should read all the guidelines properly before submitting any blog post. It will tell us about formatting and other stuff.
Always submit guest post related to host blogger content and also include advertisement and promotions in our author's bio. You will get ideas about formatting looking at host posts. Here we should add backlinks to owner posts on some spots. It will act beneficial for our guest-host relationship.
Keeping track of the comment section is also necessary. Discussion going on the comment section helps us to pitch some new ideas.
Sharing is the most important of all. Proper sharing leads to perfect pitching. Sending new readers to host will make him/her happy as well as improve traffic in our post.
Doing all this will help us to find the perfect host for our content and our guest post is finally ready to be in the host site.
If we follow these processes perfectly then we would be able to attract a huge bunch of readers to our guest post.
At last, we should return favors to our host to maintain the future guest-host relationship. Saying "Thank you" is the best of all. This may sound obvious this is the best thing to sustain a relationship. Sharing in our own social media platforms is the other. Another way to stay connected and close to the readers is to reply to all the comments on our guest post.
Hope you have learnt some advanced tricks about guest post today. You can tell us your views in the comment section below.