What describes a better customer service?
Sometimes It happens with restaurants that they are serving the best quality food but lacking in customer service or maybe they are doing well in both and still not getting enough customer engagement why?
So how does one solve this problem of less customer engagement and footfall in a restaurant? Your answer is to use the best point of sale systems to manage and handle the operational part of the restaurant.
A restaurant POS software is a modernised system equipped with features which provide your restaurant with the efficiency, competitive advantage and one-solution for all the operational challenges of your restaurant.
POS systems not only helpful for operational activities but also provide a database for long-term marketing campaigns like a restaurant loyalty program, CRM solutions and customer retention.
Understanding of Restaurant POS software
Restaurant pos software basically a point of sale system that functions daily task of a restaurant and initially in traditional pos, it was only a restaurant billing software that used only for accepting orders and generating a receipt.
Now the cloud-based pos system is in trend which facilitates billing, Reporting & Analytics, inventory management, Customer Relationship Management and more. It reduces time and efforts and simplifies the task.
Why a Restaurant needs a POS
Let's read how a restaurant point of sale software solves the managerial and operational task of your restaurant :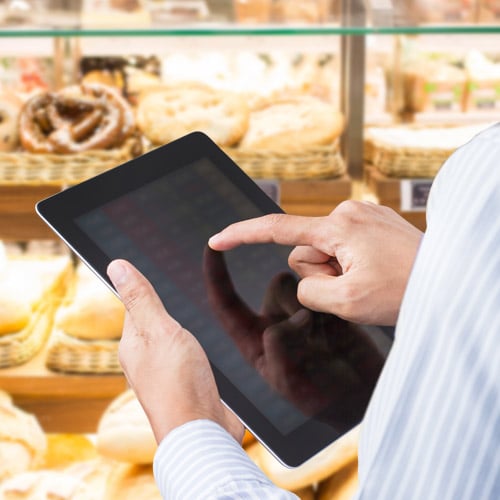 1. A restaurant pos system encourage customer relationship management –
Cultivate a strong relationship with the customer is a primary task of an owner that can be done with the help of the best pos system for restaurant.
A. When you have multiple outlets then you can manage a central database and segment customers based on geographic and demographic factors.
Restaurant POS Sytems
B. Once you have a database of customer, you can segment them on the basis of their purchasing behaviour and send them targeted SMS to inform about your restaurant event, current offers and discounts.
2. Build Customer Loyalty
Restaurant loyalty programs are a great way to increase customer retention. When you have a customer database you can use to retain both your existing and new customers.
Customer Loyalty is a major part of the success of any restaurant and system integrated with CRM helps to run customer loyalty programs and target the customer.
A restaurant POS software allows you to concentrate on keeping your customers happy
3. Tight Control Over Stock & Inventory
Not having a sharp eye on your stock section could be the biggest mistake that you are doing. It helps you to avoid inventory management mistakes.
A. Works as a Restaurant inventory management system and allows recording of stock details which reduces the chances of any discrepancy.
B. Keeping track of the amount of stock consumed while preparing dishes. Some of pos systems enable figuring out details amount of stock use
C. And because of smooth functioning, it reduces negative online reviews.
Restaurant inventory management
Read: Why 60% of restaurants fail in the first year and 80% closed down within five years of operation.
4. Real-Time Reports
Being an owner, may you have a lot of work and not able to visit the restaurant physically. That doesn't mean you depend on the restaurant manager for all the operations and sales reports.
With the help of a Restaurant pos software, you can get a detailed report of sales, customers, expenditure and revenue.
A. Cloud-based pos software assists you with the detailed report of sales and operational part.
B. POS mobile app allowed you to operate the whole system on the move.
5. Inter-departmental Communication
Communication among department, staff, managers and owner is vital for smooth running. A POS system unites inventory management with the ordering computer screen.
This allows you to track real-time, whether the product is available or not before giving any commitment to your customers. The best Restaurant pos software will ensure that your restaurant is updated and not lacking behind your competitors.
Conclusion
Hence, The restaurant billing software reduces your paperwork and physical efforts which automatically bring smoothness in operational work. It strengthens your restaurant management system. Managing all the database in with one system control damages and poor inventory system.