No matter if it's a school, hotel, hospital or a business centre you're building, thinking green is important. It's anticipated that the construction waste is about to double in 2025 and doing everything you can to aid preserving the environment is a good idea. Luckily, since the green building has become a huge trend, there are more and more ways to make sure you help save the planet when constructing commercial buildings. With that said, here are five sustainable design considerations that'll allow you to go green.
Going for natural interior walls
Using eco-friendly materials for the interior walls is a guaranteed way to make a commercial building sustainable. When it comes to businesses that often have clients over, it usually takes a lot of material to make the place stylish. In a scenario like this, opting for interior wood cladding is something you can't go wrong with. Manufacturing wood cladding doesn't emit any pollutants and can last for decades provided that it's properly maintained. If you wish to add more to your walls, going for a stone accent wall is recommended. Natural stone is an eco-friendly material, especially when bought from a local company and transporting it to the site is quick and easy.
Using eco-friendly insulation materials
Commercial buildings are usually large and it takes plenty of energy to keep them cool during summer and warm during winter. To ensure this is the case, proper insulation is needed. The good news is, there are eco-friendly insulation materials that can help make the buildings green. One of the best options out of these is the eco-friendly building wrap. This material is known for improving air circulation and controlling moisture, making it a perfect opting for commercial buildings. Another popular option are wood chips that have been compressed into boards. Green insulation materials are also non-toxic and allergen-free, which might be what you're looking for in case you're building a hospital.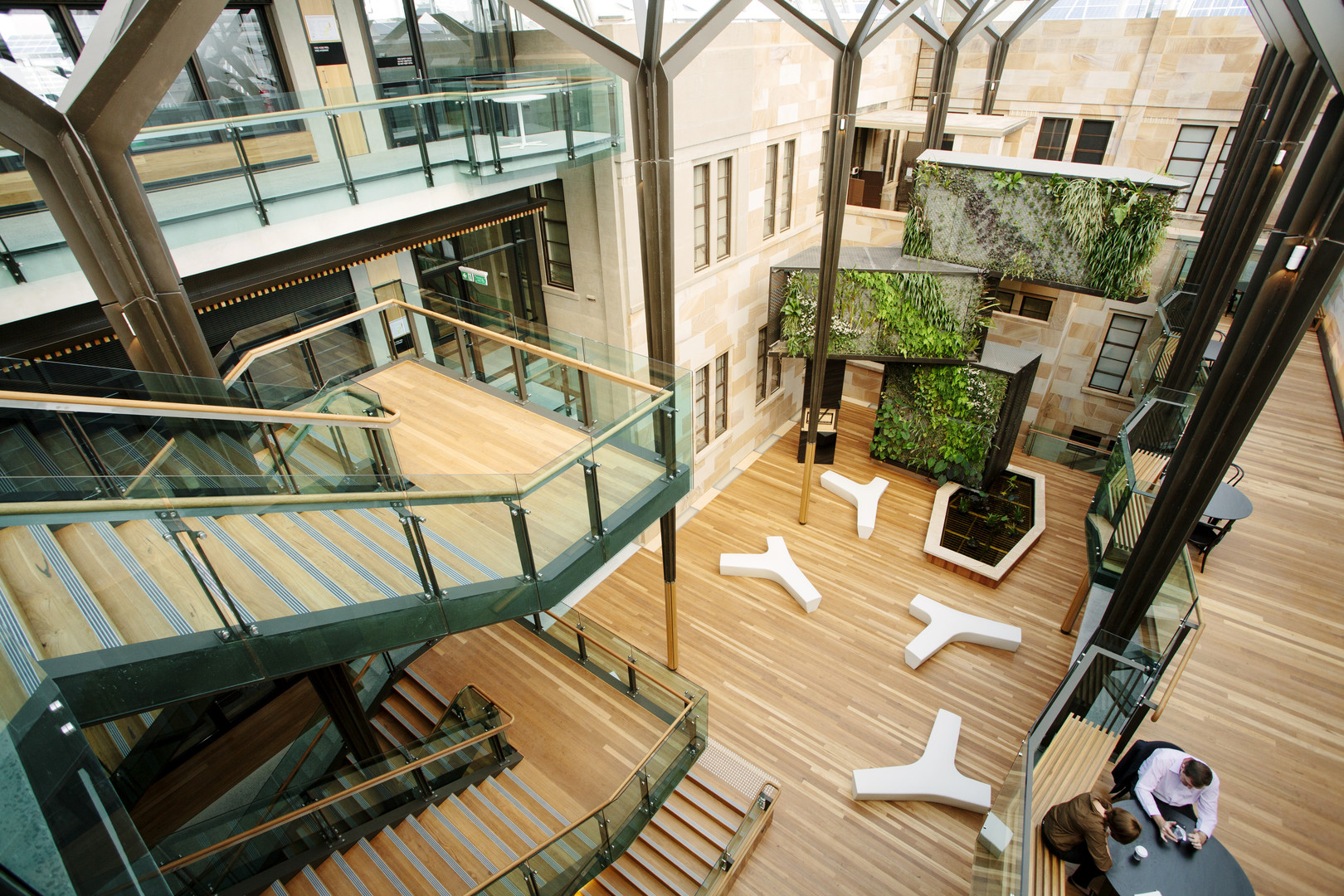 Being careful when choosing concrete
Concrete is a material used extensively when building anything from roads to buildings. This means that no matter what kind of project you're tackling, using concrete is a must. Luckily, there are more options available now and if you want to go green, there are solutions you can go for. So, when buying concrete, it's critical that you choose a company that commits to sustainability. For example, some companies try to reduce the CO2 footprint of concrete and develop even more sustainable concrete options. Moreover, some of them also support charities and local activities, which is another important factor to consider.
Fighting noise pollution
With more and more roads and commercial buildings, noise pollution is becoming a real issue. Now, for medical facilities and most modern businesses, keeping the noise at a minimum is a must. Since you can't eliminate the noise coming from the outside, introducing adequate sound proofing is your safest bet. This is another reason to choose the best possible insulation materials for the building but there's more you can do. For example, leaving enough free space for potted plants should help reduce noise as well. The most important thing to have in mind is that the layout has to be perfectly designed in order to keep noisy rooms away from those in which you need people to rest or work.
Making the most of natural light
Another important thing to mention is that most commercial buildings require a lot of light. Whether it's for employees to be able to perform their tasks or for the customers to choose products, relying on natural light is the best way to help preserve the environment. So, think about installing as many windows as possible and opting for glass doors instead of standard ones. Another great thing about natural light is that it makes any space look bigger and keeps employees stress-free. That being said, there's no reason why not go for natural light instead of artificial light. When necessary, using LED bulbs instead of incandescent ones is recommended.
Final thoughts
In this day and age, going eco-friendly is extremely important. As the construction industry generally impacts the environment a lot, every green solution that can be used is worth investing in. Have the five considerations covered in this post in mind and you'll contribute to saving the planet as much as you can.