In this technology-driven world, with on-demand food apps ordering food is just a matter of few taps. At any time and place of the day, your tummy won't stay away from yummy food. Can say, these amazingly designed food apps have facilitated our daily life to a great extent.
However, when I check the thousands of apps available today, as a designer choosing one app that is EXTRAORDINARY gets difficult. I wonder what makes the difference in Mainstream and Extraordinary design! Probably, it is the aspect about DETAILS. Obviously, small choices make a big difference in design.
The designs plays a major impact on the visual senses of users and without doubt we are subjectively driven by the visual appearance. Therefore, learning about such micro-decision-making design elements like color schemes, navigation, space and more becomes important.
Below is one such recent design I came across, one that was liked by most the expert app designers.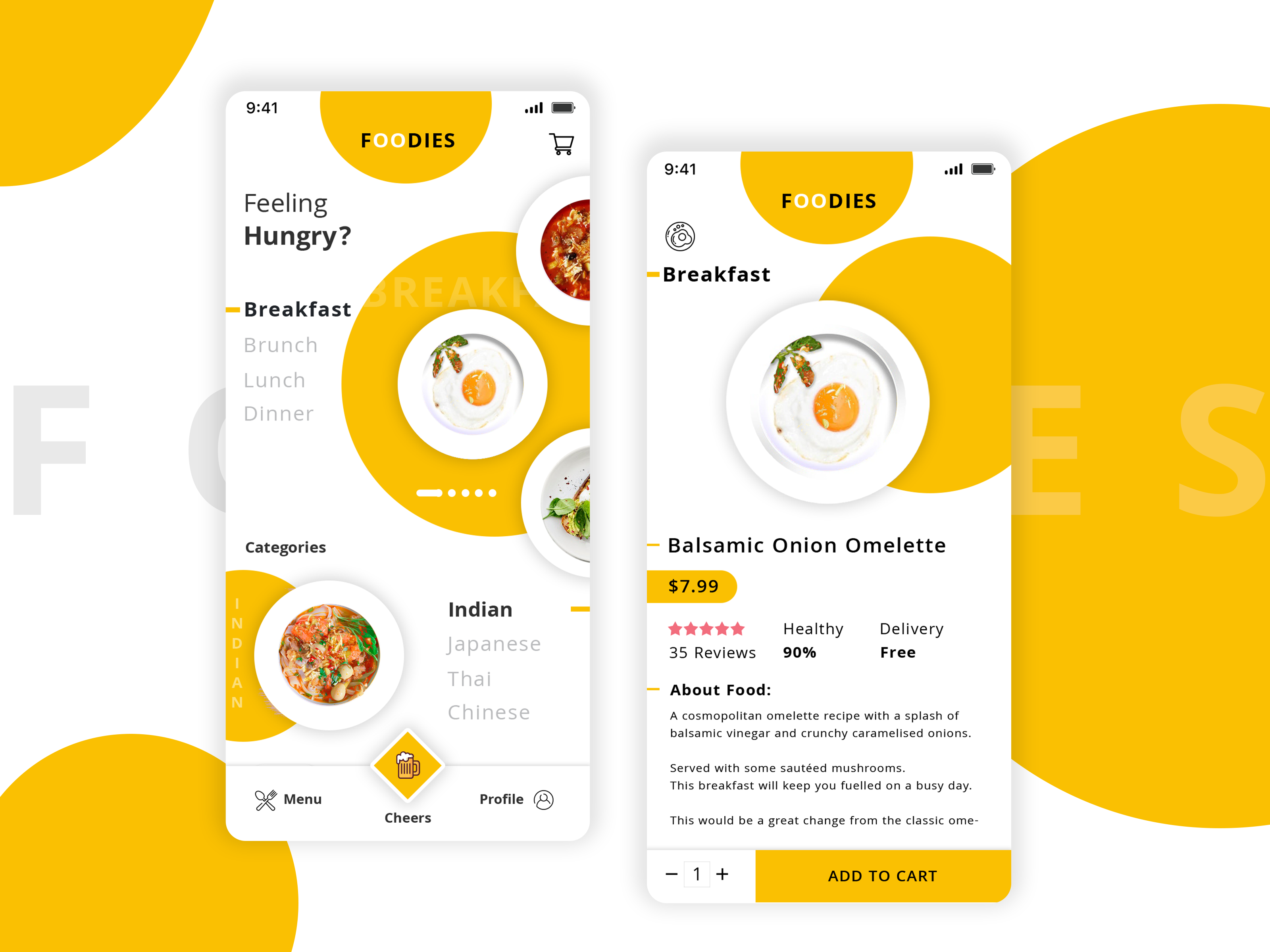 5 details that are amazingly done in this design and that makes it fall in the category of EXTRAORDINARY.
1. Choosing Colors & Consistent Color Palette
Color selection can be the key to your eye-appealing design. Although, choosing right colors for designs ordinarily gets tough for designers. Here, the designer had selected color yellow based on the moods of user. In the
Dribbble post
, the company clearly mentioned that happiness of the foodie persuaded the designer to choose yellow.
We can choose colors on basis of how we feel, trends analysis, understanding the color therapy and target audience, or analyzing the competitors color selection.
2. Ample Use Of White Space For Better UX
White space is the hidden unsung hero that helps you make landing pages more upscale and persuasive. How? It asks the user to pay attention where they want elements and in what order. The space helps to create groups of related information in priorities. In the above design, the white space is used as a tenet of design that highlights the contrast patterns created and makes it visually appealing.
3. Mood Board
The design mapping created based on the user's mood will definitely result. You can study how the user will move from one screen to another and based on the navigation, you can create patterns, choose colors and add animations. Moreover, the patterns can be formed with same colors to bring value through consistency.
4. More Graphics, Less Text
Time for a survey! Go through all the daily used apps on your mobile. Identify and understand which apps excel both in look and usability! Are there any applications that aren't popular and doesn't have awesome usability, yet you have decided to use them because of their awe-inspiring aesthetics? You realize that simplicity and less text of the app kept you drawn towards it.
In the above app design, similar thing makes the app more elegant. The placement and color of fonts made design picturesque.
5. Keep UI Consistent
Ensure you keep the UI consistent on all pages, with similar patterns and color. User accustomed to a particular interface will be confused if they find a complete new color palette or different language on another page or channel.
Conclusion
In order to make your app outstanding, ensure all
UX and UI details
like icon placement, color consistency, navigation, and more fall into right place.